Bertie's Nanas Cookies
Bertie has been telling us all about the delicious cookies that he makes with his Nana when he has a spare couple of hours at home. Nana was kind enough to bring us in her failsafe recipe for us all to enjoy. Now it's time for us to get baking!
Ingredients
4oz margarine
6oz caster sugar
4oz rolled oats
6oz self-raising flour
1 dessertspoon of golden syrup
0.5 tsp. bicarbonate of soda dissolved in 1 tbsp. boiling water.
1 tsp. vanilla essence
Tube of smarties or similar
Now lets get started…
Preheat the oven to 160 degrees.
Cream together the margarine, caster sugar, golden syrup and vanilla essence until it is light and fluffy.
Add the rolled oats in the mixture and mix well.
Add the self raising flour into the mixture and mix until it is fully combined.
Add in the bicarbonate of soda and water to loosen up the mixture if stiff.
Divide the mixture into 3 balls.
Divide each of these balls into 6 smaller balls.
Place them onto grease proof paper and flatten them out slightly.
Then pop a few smarties onto the top to make them nice and colourful.
Bake them in the oven for around 14 minutes or until they are nice and golden on the top.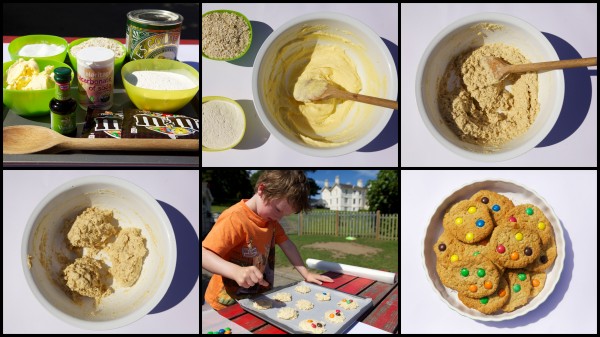 Once they have cooled down a little they are all yours for the eating but beware, you better get in there quickly as it wont be long before they are all gone!