Recently I came across a brilliant blog post where the author had made some rather funky cupcake cones for a kid's party. I thought this would be a fun activity for the children to join in on so we adjusted the recipe a little to make it a little simpler and away we went.
All you need is a basis cake mixture, food colourings and some ice cream cones to begin with. Due to the cones narrowing at the end, we wanted to avoid the mixture going all the way down to the bottom as this would lead to the cake batter cooking quicker than the rest of the cone. To avoid this we crunched up a cone and placed some of the crumbs in the bottom to prevent the mixture going all the way down.
Ingredients.
 8oz self raising flour
8oz butter
8oz caster sugar
4 eggs
1 teaspoon vanilla essence
Pinch of salt
Food colouring (optional)
Create the basic cake mixture by creaming together the butter and sugar until pale and creamy. Add in the eggs and mix together well. If the mixture starts to curdle, add a little flour in to glue the mixture back together. Add the vanilla essence and salt into the mixture and then add in the flour. Mix well until you have a smooth batter like mixture. To create some fun and exciting colours within your batter add a little food colouring and watch the colours transform your batter. We split our batter into three bowls and used separate colourings for each to make the cake look bright and delicious.
Now that you have your basic cake mixture you can now pour this into your ice cream cones that you have ready and waiting for you. If you have made several colours of batter, use a piping bag to alternate the colours of batter to create some interesting colour combinations.
Bake these in the oven at 180 degrees for 20 minutes or until the sponge bounces back to the touch. Allow these to cool by balancing them between the wire prongs of a cooling rack.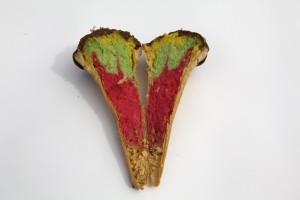 This is where the fun really begins as we can now decorate our cupcake ice cream cones. There are plenty of options to choose from when decorating your cones. For ours we dunked the top of our cones in melted chocolate before scattering on some sprinkles but it would look brilliant to also make up some butter icing and pipe it on to the head of the cone. You could even add some food colouring to your butter icing to make it just as bright as the cake inside; the options are endless.
Once decorated they are ready to be devoured… These definitely wont be lasting long!!!